Ashley G. is a 7th grader at King Philip Middle School in West Hartford, CT. She recently read Gail Nall's BREAKING THE ICE and had a few questions for the author.
First, here's the official description of the book: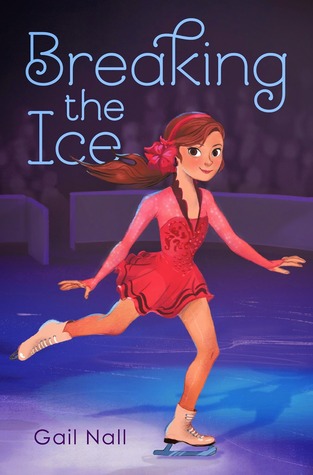 Kaitlin has always dreamed of being a champion figure skater, and she's given up a lot to pursue her passion. But after having a totally uncharacteristic and decidedly NOT figure-skating-approved tantrum after getting her scores at a major competition she's dropped by her coach and prestigious skating club.When no other club in town will have her, she's forced to join the ridiculed and rundown Fallton Club, jokingly referred to as the Fall Down Club. At first Kaitlin thinks this is a complete disaster, but after meeting some of the other skaters, including a boy (who happens to have the most perfect hair she's ever seen) Kaitlin thinks it might actually not be so bad.
But when she's tasked with learning a whole new program right before Regionals and figures out that almost all the other skaters target Fallton, she thinks joining the Fall Down Club may just be the second biggest mistake she's ever made.
In this figure skating themed debut, Kaitlin learns that when you fall down, you have to pick yourself up – even if it's in front of judges and a crowd
Ashley: Are you a figure skater? If not, how do you know so much about the life of a competitive figure skater who is seriously training and trying to get to Nationals and then the Olympics?
Gail: I am! I grew up skating. I still skate for fun now, and I teach learn-to-skate. I loved competing, but I was hardly competitive. Meaning, I was never anywhere near Kaitlin's level. I was more like Miyu. 🙂  So, I filled in the gaps of my knowledge for this book with a lot of reading and research, IceNetwork-watching, and paying attention when I went to the rink. What I love about skating is that it's something you can do your whole life, whether you make it to an elite level or not. My favorite jump is the flip, and my favorite spin is a simple, fast scratch spin. And spirals — I love spirals!
Ashley: In the beginning of the book, Kaitlin places 11th out of 13 girls at the Praterville Open Ice Skating Competition. She is extremely disappointed and has a meltdown in front of the judges. She then loses her coach and her club. If you were her coach, Hildy, would you have abandoned Kaitlin? If you were in charge of the decision, would you have kicked Kaitlin out of the Ridgeline Skating Club? Do you think Kaitlin deserved these consequences?
Gail: If I were Hildy, or were in charge of the club, I hope that I would've been a little more tolerant. I would've much rather talked to a student who acted so uncharacteristically to find out what was going on, and then figured out together how to work through it. Kaitlin definitely deserved some kind of consequences for her actions, but probably not as drastic as what actually happens to her in the book. However … it would've been an awfully boring book if all she'd gotten was a lecture and warning to never act like that again. 😉
Ashley: Do you think the mistake ended up changing Kaitlin in a good way?
Gail: Oh, definitely! Not only does she figure out when it's good to speak up (and when it's not), but she also learns what a real friend is. One of my favorite things about writing this book was showing how Kaitlin's experience affected her skating. I won't give away how that happens, but it was interesting to think about, and fun to convey that change through the skating descriptions in the book. I think it was also important to show how it is possible to get back up and keep going even after it feels as if your life has fallen apart. Through this experience, Kaitlin learns about her own inner strength.
Ashley: At Ridgeline, Kaitlin had top coaches and a great facility, but no real friends. The Fallton (Fall Down) Skating Club had a horrible reputation, but Kaitlin made friends there. If you were/are a skater, which would be more important to you: A good reputation as a skater and getting to skate at a prominent skating club, or having friends to cheer you on and support you? Which do you think is more important to the average skater?
Gail: This is a hard one. I think a lot of skaters would love that elite club with the excellent reputation, but if it came at the cost of never having real friendships, it would be hard to stay there and be happy. I would much rather have friends that I enjoyed seeing every day, whether that's at an elite club or at some place more like Fallton.
Ashley: What is your favorite scene in the novel and why? Does it present anything that happened in real life?
My absolute favorite scene is the one in which Kaitlin takes an ice dance lesson with Svetlana. That was the most fun to write because of awkwardness with Braedon, and, of course, Svetlana's Russian accent and coaching style. I pulled the actual dance-related parts of that scene from real-life skating (because, wow, hitting that perfect position in dance can HURT!), but the rest is completely made up. (Thankfully. I'd have died of embarrassment if that scene had ever happened to me in real life!)
I have to mention my second-favorite scene too, which is the one where Kaitlin, Miyu, Addison, and Braedon are having a spin-off and jump-off. I played this same game with skating friends when I was that age, except we used to string together really bizarre, unrelated things — for example, a jump into a sit spin into a lunge into some weird move that someone would make up on the spot, etc. It was always hilarious watching everyone try to get through it all without falling over.
BREAKING THE ICE is out now and available wherever books are sold, including:
Amazon | Barnes & Noble | Indiebound
Gail Nal
l lives in Louisville, Kentucky with her family and more cats than necessary. She spends her early mornings writing, her days practicing law, and her evenings trying to stay up past eight o'clock. She chats about writing and figure skating on her blog Writing and Stuff, and spends too much time on Twitter. Her debut contemporary MG novel, DON'T FALL DOWN, will be out from Aladdin/Simon & Schuster in Spring 2015.